Terminated Orangeville Mazda dealership reopens as Motion Mazda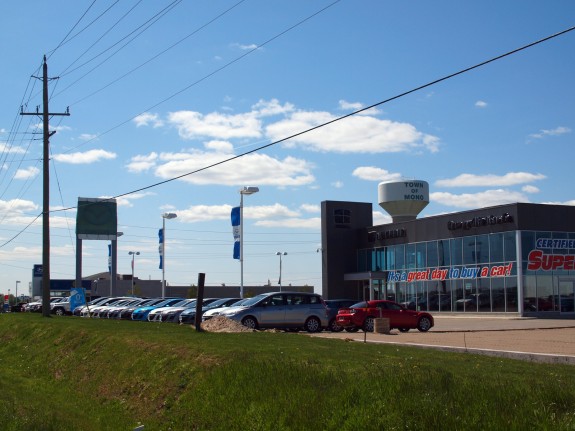 A follow-up to the story, Orangeville Mazda Overprices Car $25,000 to Intellectually Disabled Woman; the dealership was quickly terminated by Mazda Canada which resulted in the Mazda logo and signs being covered up immediately (pictured above). Mazda Canada said it ended the franchise with Mazda of Orangeville because it breached the company's business standards under a sales and service agreement in the transaction and other incidents.
However it now appears that Orangeville Mazda dealer has now re-opened under a new name Motion Mazda and under new ownership. Brampton Auto Mall Inc. which already owns nine other dealerships, confirmed earlier this month that it has bought the land and buildings of Mazda of Orangeville from previous owner Sunny Baines; reached a franchise agreement with the Mazda Canada to reopen the dealership as Motion Mazda.
Glen Alizadeh, head of the Brampton dealership group, said there is some skepticism and concern among consumers about the reopening but they are generally happy with the change. "We're starting from scratch," said Alizadeh, who would not disclose financial terms of the deal. "It's an exciting challenge." Alizadeh said he retained eight of the previous dealership's 26 employees and hired new staff from other stores in his network.
Charges are still pending for the former owner and sales person who sold the overpriced car to Madeline Leonard. Luckily Mazda Canada gave Leonard the car without further cost or obligation.
Posted: June 25th, 2010 under News, Orangeville.
Tags: Madeline Leonard, mazda, News, ontario, Orangeville, orangeville mazda