Remains found in seperate Muskoka locations belongs to Bolton/Caledon man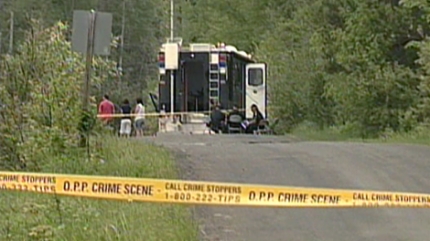 Ontario Provincial Police have announced human remains found late last month in Oro-Medonte and Lake of Bays Townships, and in Muskoka belonged to a 45-year-old Bolton/Caledon area man. Whoever chopped up the body of a Bolton man and scattered it throughout cottage country was likely an amateur and not an underworld figure, a veteran homicide investigator says.
"People who are in stressful situations do strange things,"
said Mark Mendelson, a former Toronto police homicide officer who now heads Mark Mendelson Consulting Corp., a private investigation firm. His comments came after the OPP on Monday identified the body parts found in three regions north of Toronto as belonging to Morris Conte, 45, of Bolton, Ontario. Conte, a father of four and recreational drug user, had low-level ties to bikers and mobsters in York Region. Police have ruled his death a homicide. OPP spokesman Const. Mark Kenney declined to comment on the cause or time of death, or what pieces of Conte's body were recovered. He did confirm that Conte's identity was determined through testing at the downtown Centre for Forensic Sciences. Remains were found May 22 in Oro-Medonte Township's Sugar Bush area, north of Barrie. Also that day, pieces of his body were discovered in Lake of Bays Township, east of Huntsville. On May 28, a construction worker found yet another set of remains northeast of Bracebridge, on the shoulder of Stoneleigh Rd. off Muskoka Road 117. All of the body parts were left in plain view. Mendelson said mobsters tend to be more efficient at getting rid of bodies of their victims, rather than cutting them into pieces and scattering them in places where they're sure to be found.
"Organized crime people (often) put them into barrels and pour in cement,"
said Mendelson. Mendelson also wonders if perhaps more than one person was involved in the body disposal.
Posted: June 25th, 2010 under Bolton, Caledon, News.
Tags: Bolton, Caledon, Morris Conte, murder, muskoka, News, ontario
Comments