Cedar Waxwing birds in Caledon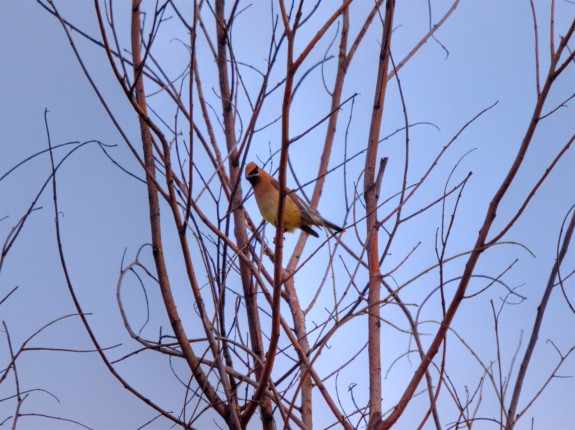 The Cedar Waxwing bird, a new arrival this year to my Caledon backyard or at the very least I never noticed them until now. These Cedar Waxwing birds started hanging out on this one dead tree and would eat some berries from a bush further below. I took these photos with my big 50-500mm zoom lens and enhanced the lighting on the Photomatix software. Cedar Waxwing birds breed in open wooded areas in North America, principally southern Canada and the northern United States areas. These birds' most prominent feature is a small cluster of bright red feathers on the wings, the tail is typically yellow or orange depending on diet. The Cedar Waxwing eats berries and sugary fruit year-round, with insects becoming an important part of the diet in the breeding season. For more info on Cedar Waxing birds,
click here
. Also to see larger photos of each image click on the photos.
Posted: September 5th, 2011 under Caledon, Photos, Wildlife.
Tags: bird, birds, Caledon, cedar wax wing, cedar waxwing, ontario, Photos, wax wing, waxwing, Wildlife
Comments