Bolton, Ontario is Restaurant Franchise Death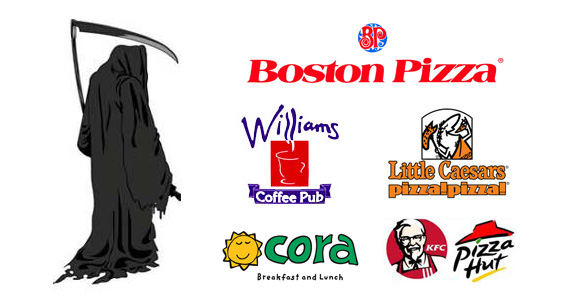 You may or may not have noticed but franchise restaurants have been struggling greatly in Bolton, Ontario leaving a long line of failure to the already struggling retail space in the town. Joe Warmington from the Toronto Sun wrote an article about the issue exactly a year ago and not much has changed in a year, in fact its has got worse.
In the past two years many franchise restaurants have failed such as; Boston Pizza, Coras, William's Coffee Pub, Little Caesars, KFC / Pizza Hut and there are others that continue to struggle.
In the case of Boston Pizza, they have managed to re-open under new ownership and appear to be making a better go of it the second time around. Coras hasn't been so lucky, it has been left vacant and abandoned for over a year now, their lease was terminated with them owing $62,460.63. The owner had put his life savings into the restraunt and has lost everything, Coras failing is a bit odd and cause for concern considering how popular they are throughout the GTA, usually you will find Coras with a lineup out the door they are that popular. Startup franchises like Little Caesars came and went so fast you may not have not even noticed them. For KFC / Pizza Hut it appears they simply gave up after many years in Bolton and are just closing down.
So what is the problem? Why is Bolton, Ontario Restaurant Franchise Death?
According to the Toronto Sun article the most likely cause is that Bolton simply does not have a large enough population to support businesses in the town. With 27,000 residents Bolton has enough commercial development to service double that and with no new residental developments on the horizon things are unlikely to improve any time soon.
Mayor Marolyn Morrison seems mostly unconcerned and dismissive of the concerns of local businesses struggling and failing saying only that "There are plenty of businesses doing very well here too." and "Businesses don't always go under because they have a lack of clientele," she said. "They go under for other reasons, I will leave it at that."
According to the town's official plan Bolton won't get bigger until 2021 which is a long time away. For the time being franchise restaurants and other businesses will likely continue to struggle and due to the glut of retail space available right now Bolton you likely won't see any further commercial development which means areas like that large empty field next to Walmart & LCBO will likely sit vacant for a long time.
Posted: September 25th, 2011 under Bolton, Food, News.
Tags: bankrupt, bankruptcy, Bolton, boston pizza, Caledon, coras, Food, Franchise, kfc, little caesers, Marolyn Morrison, Mayor, News, ontario, pizza, pizza hut, restaurant, William's Coffee Pub
Comments