Bolton, Ontario is Restaurant Franchise Death – 2014 Update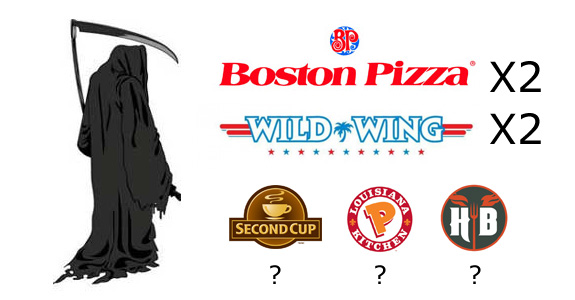 Back in 2011 I wrote about the state of food franchise business in Bolton, Ontario and how things looked bleak. Fast forward to 2014 and not much has changed in that time. Some new ones have come in like Starbucks but others have continued to fail (repeatedly).
When I last wrote about it Boston Pizza had just re-opened under new ownership but has yet again failed and has closed up. The few times I had gone in there while it was open it was almost always nearly empty. One time in particular I recall I couldn't even find an employee to order a drink, I had to walk into the back kitchen area to find someone, oblivious to what I wanted.
The Wild Wing restaurant at the movie theatre complex is another curious story, the restaurant mysteriously closed last year for while and the whole place was gutted. It eventually re-opened but did not last very long, it yet again closed down, this time I think for good.
The Cora's restaurant in the Home Depot plaza was briefly replaced by Chinese restaurant which has also gone out of business relatively quickly. There was also a Jimmy the Greek Express in the same plaza that went out of business in record time, it has now turned into a CIBC bank.
Also although not a franchise the longtime local favorite (since 1971) Baffo's Pizza recently closed down at the beginning of this year. After undergoing a massive expansion a number of years ago to the Queen St./Hwy 50 location they were massively in debt. The new restaurant was beautifully done however it was perhaps an over expansion, Bolton simply does not have the population to support a restaurant of that size. Baffo's closed down with a reported $97,231.91 being owed to the landlord and as of August 2014 it still remains closed to it appears unlikely it will ever return.
Among the new franchise entrants to Bolton is Starbucks, Popeye's Louisiana Kitchen & Hole-E-Burger Bar, all three of them in the former KFC/Pizza Hut location. The Starbucks seems extremely popular so far but the other two constantly look deserted, that doesn't bode well for them. The nearby Second Cup at the Canadian Tire may be in danger too now that people are flocking to the Starbucks instead.
So is Bolton Ontario still Restaurant Franchise Death?
That remains to be seen but in the last 3 years not much has improved. There is still huge glut of retail space in general for Bolton. For example the Home Depot shopping plaza area in particular continues to suffer still with half empty stores many years later.
Many people have commented on my original post; this was more of a divisive issue then I had originally thought. Not everyone agrees with the notion that Bolton doesn't have enough population to support the businesses although that is definitely a contributing cause.
Another good point made by a few people is that owners of the new franchises are not doing their due diligence in researching the demographics of the area. Others have said the failed restaurants either had terrible service or poor quality food, that also may be the case for some of them.
In the near term things may actually get worse for all Bolton businesses, once the Bolton Arterial Road System "Bolton by-pass" is complete (final section of the road now under construction) the north-south traffic passing through may choose to by-pass Bolton completely.
Posted: August 5th, 2014 under Bolton, Caledon, Food, News.
Tags: Bolton, bolton by-pass, boston pizza, Caledon, coras, Franchise, Home Depot, kfc, ontario, pizza hut, Popeye's, restaurant, Starbucks, Wild Wing
Comments