South Down Farm, Caledon's 18.5 Million Dollar Mansion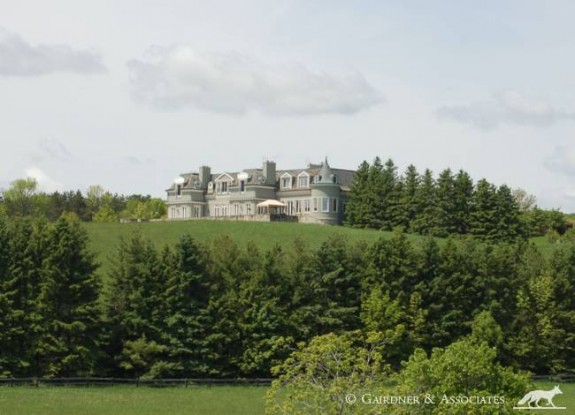 Just in case you happen to win the $50 Million dollar Lotto Max prize the South Down Farm estate in Caledon, Ontario which lists for $18.5 Million Dollars might be the house for you. The house actually is only the second most expensive house in the Caledon area, the most expensive still goes Eaton family's famous Hawkridge Farm estate at $24 Million.
The South Down Farm estate is 488 acres in size and entirely enclosed with chain linked fencing and houses the massive 13,000 sq. ft. house designed by Adam Smuszkowics. The mansion features include a 6,000 sq. ft. finished basement, beautiful architecture, 5 ensuite bedrooms plus 2 bedrooms below level and an elevator services all floors. The property also includes another house with 4+3 bedrooms, a 16 stall barn, a greenhouse, a pond with great gardens and a large sugar shack. There are massive rolling hills with hardwood bush and streams over 300 acres. For more info and pictures of the property check out the listing page from Gairdner & Associates Real Estate.
The house has been rumored to have been owned by the late Trivial Pursuit co-creator Chris Haney who passed away earlier this summer. I have no way to confirm this, so if you know anything just let me know.
If you are curious where this property is, its address is 1880 The Grange Side Road, Caledon, ON. Which is just west of Highway 10 and south of Forks of the Credit Rd. and is actually close to the Eaton estate as well. See the Google Maps link below.
Posted: July 31st, 2010 under Caledon, Photos, Real Estate.
Tags: Caledon, eaton estate, eaton family, estate, google maps, mansion, ontario, Photos, real estate, South Down Farm
Comments