Hawkridge Farm (Eaton Family Mansion/Estate) still for sale in Caledon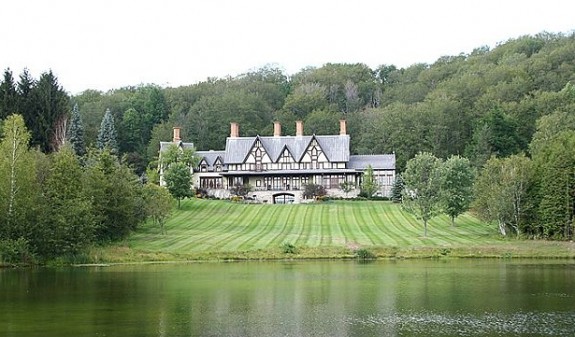 The famous Eaton family mansion that sits on a 150 acre estate in Caledon which is also now being called Hawkridge Farm on the real estate listing appears to still be for sale after initially being listed for sale back in late 2007. At a price tag of $24 million dollars it easily remains the most expensive piece of real estate in not just Ontario but all of Canada and given the current economic conditions it is not really surprising that it hasn't sold yet. There may be other reasons for why it hasn't sold yet though, there was an on-going lawsuit initiated by the family against the builders of the house alleging building code violations, lack of adequate insulation and structural deficits. Earlier this year however the lawsuit was settled and the case was dismissed, none of the details of the settlement have been made public. The huge estate covers 150 acres that includes forests, a freshwater stream, cattle pastures, walking trails, gardens and a pond. The 24,000 square foot home includes a large living room, formal dining room, a large kitchen, 11 bedrooms and an indoor pool. The home belongs to George Ross Eaton, a Canadian department store heir. It was designed by
Thierry Despont
and building of this expansive over 28,000-foot mansion began in the late 1980s but didn't finish up until 1996 at a reported cost of $20 million Canadian. A few years later facing tax problems, Eaton put the home on the market for that price but didn't get any takers so he later took the house off the market until 2007 however yet again there appears to be no takers. If you do happen to have a spare $24 million laying around and interesting in purchasing this property,
click here for more info
. A few pictures from the real estate listing:
click here
. Or if you are just curious where this monstrous estate is located in Caledon, then
click here to see it on Google Maps
.
Posted: August 17th, 2009 under Caledon, News, Photos, Real Estate.
Tags: Caledon, eaton, eaton estate, eaton family, Hawkridge Farm, ontario, Photos, real estate
Comments