Baffo's Pizza in Bolton moving to new location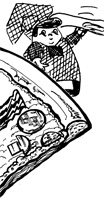 Baffo's Pizza the popular local pizzeria and restaurant in downtown Bolton for over 38 years will soon be moving to a new better location right on Queen St. (Hwy 50). Currently tucked away one street east on Chapel Street Baffo's will be moving to the main street where the Billiards/Pool Hall used to be. The new location will have a much larger space for the restaurant and a patio for the summer. Baffo's expects to transition over to the new location sometime in December.
Baffo's Pizza is still currently at 31 Chapel St, Bolton, Ontario and can be reached at (905) 857-3444. They have great service and I highly recommend their pizza, you can take a look at their menu by clicking here (pdf).
Posted: September 11th, 2009 under Bolton, Food, News.
Tags: Bolton, Caledon, Dinner, Food, highway 50, ontario, pizza, restaurant
Comments