Caledon Teen Sets Swimming Record for Lake Ontario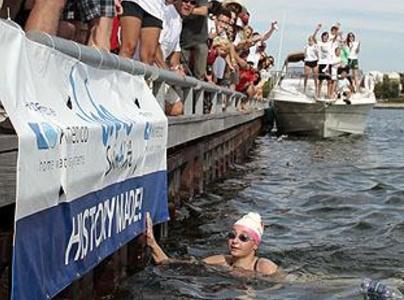 Just to update my earlier blog posting.
Jade Scognamillo, only 15, years old becomes the youngest to cross Lake Ontario on a solo swim. Her official time was 19 hours, 59 minutes and 49 seconds.
Scognamillo touched the wall at Marilyn Bell Park in Toronto just before 6 p.m after swimming through choppy water for the final kilometre of the swim.
Spokeswoman Francisca Gambino said she's tired, but on an emotional high.
The 15-year-old swimmer from Caledon started the journey at Niagara-on-the-Lake around 9:33 p.m. Friday, after waiting for spontaneous thunderstorms to pass by.
Scognamillo realized not only her aquatic goal with the swim, but her fundraising one as well, raising $35,000 for the neo-natal unit at Sick Kids hospital.
"Her theory is that everybody has a connection with Sick Kids, you know someone has been a Sick Kids patient," said Gambino. "It's a charity that everybody can connect to personally."
Mother Nature has been a big obstacle for Scognamillo, delaying her start by a week, said Gambino.
The swimmer was following the swim-strokes of Toronto legend Marilyn Bell, who crossed the Great Lake in 1954.
The marathon swim was continuous, meaning Scognamillo swam straight through the night – stopping her forward movement only for food and water breaks.
To consume the necessary calories, she was passed food from her "flotilla" of five boats, one of which was carrying her father, who was dishing out moral support, and she treaded water to eat and drink, said Gambino.
Her swim coach also accompanied her by kayaking alongside with a representative of Solo Swim Ontario, who was watching Scognamillo to make sure she completes the swim under the organization's parameters.
The swim has gone well despite strong currents exiting the Humber River, some lake traffic sending waves her way – and her exhaustion.
After being checked out by paramedics and given the all-clear, a triumphant Scognamillo celebrated by enjoying some ice cream among family and friends.
A celebration back in Caledon is in the works.
This fall Scognamillo will return to her school, Country Day School in King Township, north of Toronto, and continue to compete with her Vaughan swim club.
As for her long-term goals?
"Will you see her in the Olympics? I wouldn't doubt it," said Gambino.
———————–
For more information about her Lake Ontario Swim you can check our her website by clicking here.
Posted: August 2nd, 2009 under News.
Tags: Bolton, Caledon, News, ontario