Abandoned House on Highway 9, Caledon, Ontario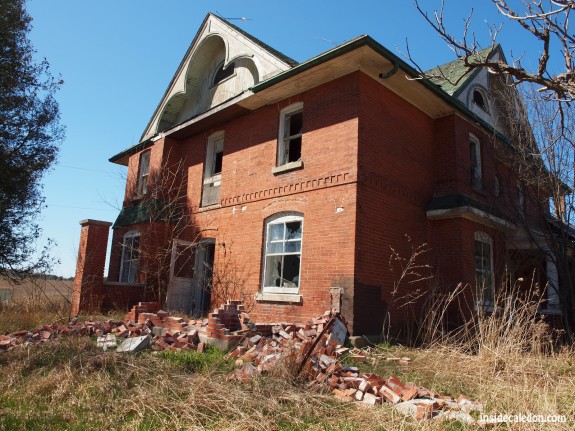 These are some photos I took recently of an abandoned house on Highway 9 in the Caledon, Ontario area that borders New Tecumseth. Every day I drive by this house and I have always been curious as to what happened to this place. This particular house is located on Highway 9 between Mount Pleasant and Mount Wolfe roads, it is on the north side of the road.
The photos are of the old farm house and what is left on the property. The house has been exposed to the elements and is decaying. There is two older boats and an older brown Chevrolet Monte Carlo also abandoned in the back which isn't visible from the road. There is also a silo and a garage/barn type structure in the rear. The farm land surrounding the property appears to be kept up and worked even if this property rots.
Despite the neglect to this old home I think it still has the potential to be restored if someone wanted to do so. I am not sure how long this house has been abandoned, it has some modern wiring and plumbing and wasn't as overly trashed as I was expecting to find it inside however I believe it has been abandoned at least 5 years to my knowledge but probably a lot longer than that.
Click on the images to open up larger photos, if you want to see more photos click here to go to the photo album of about 50 pictures of this abandoned house.
Posted: May 1st, 2012 under Abandoned Houses, Caledon, Photos.
Tags: abandoned house, Abandoned Houses, Caledon, highway 9, hwy 9, Mount Pleasant, Mount Wolfe, New Tecumseth, ontario, Photos
Comments