Caledon safest city in Canada, survey finds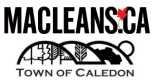 According to an annual survey by Maclean's magazine of the most dangerous cities in Canada, Caledon for the second year in a row was deemed the safest community in Canada.
An excerpt from the Macleans article:
Certainly affluence helps shape Canada's statistically safest place, Caledon, Ont., a scenic, semi-rural suburb northwest of Toronto. It is, at least by the most recent numbers, a larger, real-life equivalent to such fictional television inventions as America's Mayberry, or Dog River, Sask., of Corner Gas fame — an idyllic world of carefree kids and unlocked doors, or more likely, of very good security systems. Caledon's policing district of almost 71,000 residents comes by its reputation honestly (naturally), with no murders or aggravated assaults in 2006. Caledon has the third-lowest level of robbery among the 100 areas and the lowest rates of break and enter, sexual assault and auto theft, combining for an overall crime rate of 107 per cent below the national average.
To read more about Macleans survey, visit their blog here or the full article here.
Posted: March 5th, 2009 under Caledon, News.
Tags: Caledon, News, ontario
Comments