Great Blue Heron spotted in Bolton, Ontario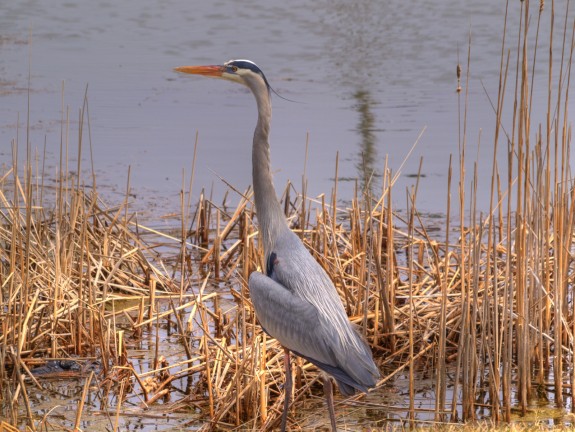 Just by chance I spotted this Blue Heron out of the corner of my eye on the outskirts of Bolton, Ontario this past week. There was a small little pond and green space near the Caledon Rec centre where he landed, he looked a little more exotic that typical birds you see in the area. He wasn't too scared, I was able to get fairly close and take some good photos of him although he kept a watchful eye on me the entire time.
Some background info on them, the Great Blue Heron , Ardea herodias, is a wading bird in the heron family Ardeidae, common over most of North and Central America as well as the West Indies and the Galápagos Islands, except for the far north and deserts and high mountains where there is no water for it to feed in. It is an extremely rare vagrant to Europe, with records from Spain, the Azores and England. It is the largest North American heron, with a head-to-tail length of 91–140 cm (36-55 in), a wingspan of 167-201 cm (66-79 in), and a weight of 2–3.6 kg (4.4-8 lbs). For more info on them click here.
Photos were taken with my zoom lens around noon, I processed them all through the program Photomatix to bring out the colour a little more. Click on the images below for larger pictures.
Posted: April 16th, 2009 under Bolton, Caledon, Photos, Wildlife.
Tags: bird, Bolton, Caledon, great blue heron, ontario, Wildlife
Comments