Caledon Lake – Caledon Ontario's Largest Lake

The above photo is a panorama picture I made of Caledon Lake which is located just south of Orangeville and west of Highway 10. Caledon Lake is easily the largest lake in all of Caledon which isn't known for having lakes of any significant size. Given the size of the lake you would thing it would be a little more well known yet it isn't because Caledon Lake is mostly a private lake with no easy public access to this lake and I am sure those who own cottages along this lake would like to keep it their private secret. Despite it being mostly a private lake it doesn't appear to be totally private, except for the row of 20-30 cottages the rest of the area appears to be protected land going by the official name of the Caledon Lake Forest Conservation Area.
There is two ways to get to Caledon Lake, you can turn down a private road which leads to those cottages (road isn't marked at all from the road) or better you can access it from the other side by driving over and up to the end of Mississauga Road. There you will find lands owned by the Peel District School Board which is a camp / nature centre. If you choose the later option simply walk up the driveway, pass the barn and you will find a trail that follows a river to Caledon Lake, make sure you are on the trail which follows the left side of the river. The trail is well maintained and a nice 5-10 minute walk to the lake. When you arrive at the lake you will see the same view as the picture above (click on the photo for a larger image).
Searching on Google I can't find much else about the lake, only tiny bits of info here and there. It appears to be a good fishing spot, while I was there taking photos two guys arrived on the same path I took and easily started catching good sized fish with in a few minutes. The lake also looks like a great place to swim, the water very warm. Power boats also seem to be allowed on this lake despite it boarding on protected lands. Here are a few more photos of Caledon Lake.
Here is where Caledon Lake is located, click on the image below for a large version on Google Maps.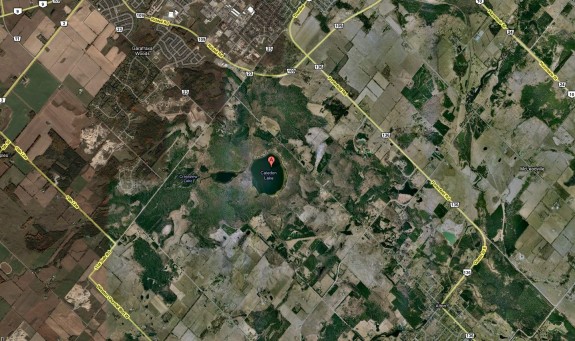 Posted: August 25th, 2009 under Caledon, Conservation, Orangeville, Photos.
Tags: Caledon, caledon lake, Conservation, lake, ontario, Orangeville, Photos
Comments