Northern Green Leopard Frog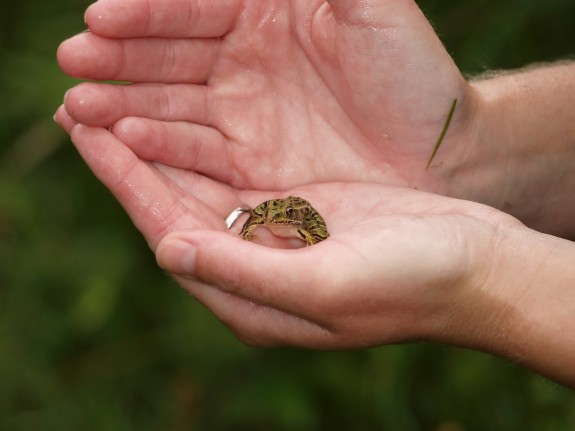 My fiance caught a small Northern Green Leopard Frog. I have seen many of them over the past few weeks in my Caledon backyard, especially when cutting the lawn I have to be careful not to run them over.
Some interesting info care of Wikipedia, the Northern Leopard Frog is a species of Leopard frog from the true frog family native to parts of Canada and United States. It is also the State Amphibian of Minnesota and Vermont. Northern Leopard Frogs have a wide range of habitats. They are found in permanent ponds, swamps, marshes and slow moving streams throughout forest, open and urban areas. They normally inhabit water bodies with abundant aquatic vegetation. They are well adapted to cold and can be found above 3,000 meters (9,800 ft). This species was once quite common through parts of western Canada until declines started occurring during the 1970s. The population decline is thought to have been caused by pollution drift from the United States falling in the form of acid rain. Many populations of Northern Leopard Frogs have not yet recovered from these declines.
I am not sure about how much they are endangered here in Ontario but they do seem to be in quite abundance, well at least in my backyard…
Posted: August 22nd, 2009 under Photos, Wildlife.
Tags: Caledon, frog, Leopard Frog, ontario, Photos, wildlige
Comments