The Cheltenham Brick Works (Abandoned)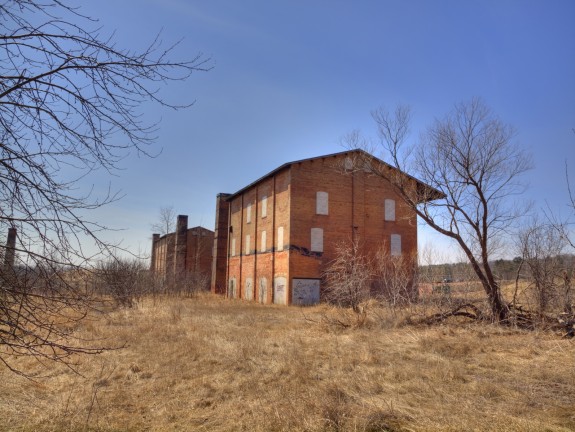 The Cheltenham Brick Works located on Mississauga Rd. just a little bit north of King St. is an old abandoned but preserved fromer brickyard complex, it is not well known and I actually came across it by accident while driving around in Caledon but quite glad I found it. Even though it is fenced off it is easily accessible as people have made holes in the fense to access it.
The Cheltenham Brick Works is very interesting as it is a good example of our industrial era history. Established in 1912 and in full operation by 1914, the brickyard was the first in Canada to mass produce bricks, shipping to national and international markets by truck and rail. The area was rich in "medina shale" which was a hard clay that made excellent bricks when fired in kilns.
In 1914, the Interprovincial Brick Company took over the brick making operations on Mississauga Road to expand their own brick making operations. Six downdraft kilns and one continuously firing kiln allowed the company to produce 90,000 bricks at once. Its workforce living largely on-site or in nearby villages, the brickyard was an important economic stimulant to the local rural community for many years.
The brick making at the Cheltenham Brick Works continued until 1958 when the Interprovincial Brick Company ceased operatons and it was left vacant. Domtar took over the site and demolished the workers homes. In 1993 Brampton Brick reopened the brick yards for shale extraction and they have preserved the remaining original brick works.
I have enhanced the photos slightly with the program Photomatix to bring out the color a little more, click on the images to open larger versions. I also have a number of inside shots of the Cheltenham Brick Works that I will be posting soon.
Posted: May 1st, 2011 under Abandoned Houses, Caledon, Photos.
Tags: abandoned house, Abandoned Houses, brick works, brick yard, brickworks, brickyard, Caledon, cheltenham, cheltenham brickworks, hdr, mississauga rd., ontario, Photos
Comments